Jouef in Ireland
This is based on an article by Bill Thursfield which was published in the March 1987 issue of the SNCF Society Journal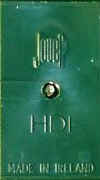 In 1979/80, Le Jouet Français (Jouef) was pursuing an aggressive export policy, with stock designs for many railway systems, amongst them British Railways. The recently introduced class 40 diesel locomotive was the first model in 00 (4 mm) scale. To this end, it was decided that somewhere nearer to Britain was needed for the production facilities, to cope with the expected demand and also to supplement French production with train sets for the British, Irish, German and Swiss markets. A grant from the Irish Government was enough to push them in the direction of Shannon, Co. Clare, where in 1980 Hobby Developments Ireland (HDI) was set up on the outskirts of Limerick. Some support, the nature of which is uncertain, came from Framos, the Jouef distributor in Germany.
A colour catalogue in English, as well as German leaflets, were produced by Framos and printed in Germany, showing the HDI range. This literature carried no mention of HDI by name - only the Jouef address at Rue des Archives and that of Framos.
Research into the factory has been made difficult, as the Irish Regional Development Agency has no records of this enterprise, but there is a short report from the August 1978 Model Railway Constructor here.
My thanks to Michael Moynihan for the following comments about Irish Jouef:-
'I remember the Jouef brand in Ireland in the year 1978-79, there were Television advertisements for the trains just before Christmas 1978 with the tagline from Shannon distributors. They also featured a layout on the "Late Late Show" , this was a long running chat show on RTE television, every year in the run-up to Christmas, they did a programme called the Toy Show which featured children's toys. A layout with Jouef trains was featured in the 1978 or 1979 show, all I remember seeing is a locomotive and coaches in CIE Livery on the track.'
'They were never widely available in Ireland , Lima and Hornby were more readily available at the time, the only time I saw their Irish sets was in about 1980-81 in a second-hand hand shop in Cork, it was a black 040 French diesel with wagons with a CIE roundel. The price was IR £40.00 which was a very high price at the time.'
Click on the links for more details and pictures
There were three ranges of loco produced - one type used a simplified chassis from BB 17000/25521, with single-axle drive, usually powered by a Mabuchi (Hong Kong) can -type motor, though the design of motor bogie also allowed fitting of the open-frame Jouef 3-pole motor. The bodies of these models were all unique to the HDI range and in most cases some trouble was taken to evoke the characteristics of the real locomotives.

The alternative range used bogies from the DB electric locomotives 110/139/182 listed in the 1978/79 main Jouef catalogue, but again with the Mabuchi motor and single-axle drive and the bogie adapted to take the Jouef 3-pole motor. The same body (a reasonable representation of a V200) is common to all. We assume that the SNCB, NSB and DSB versions were thought to look like Nohabs.
Also produced but not catalogued was a version of 8501, the SNCF Y51100 locotracteur, moulded in black with a white CIE logo embossed on the cab sides.
All the above were HO scale but HDI also produced the OO scale Class 40 in green and in BR blue. These were produced from the French moulds and therefore had 'Jouef Modele Deposee Made in France' underneath although they were actually made in Ireland.
These were very similar to the French Junior Series mouldings for the UIC Y Type coach with Y24 bogies. They had interiors, but from different mouldings with ''Jouef HDI Made in Ireland'' on the simplified underframe which had little detail. Versions in various European liveries (some imaginative) were catalogued. A model in CIE livery was not catalogued.
All the above were HO scale but HDI also produced the OO scale Mk3 coaches in BR blue and grey. These were produced from the French moulds and therefore had 'Jouef Model Deposee Made in France' underneath although they were actually made in Ireland.
They are becoming sought after in some liveries - Recently (2010) three CI|E-liveried coaches in poor condition sold for around £135 on Ebay
Although there were a number of wagons featured in the Irish catalogue most were from the standard French range. The solitary item produced bearing Jouef HDI branding was a long wheelbase DB double deck car carrier with Y25C bogies with a load of six cars.
Items from the standard French range were also produced; bodies for 020T, 67000, Re 4/4, DB 182, TGV, together with some assembly work of CC7107/NS1306, DB X-type and TEN T2S coaches, but details of this are uncertain.
Again HDI produced all the freight wagons from the French moulds and therefore had 'Jouef Model Deposee Made in France' underneath although they were actually made in Ireland.
Paul Roche from Ireland has put together a very interesting web site featuring the HDI models of Irish railways (CIE) vehicles which were produced. Most of these are extremely rare and I am grateful to Paul for the information.
They also made six standard train sets for the European market which were adaptable depending upon the preferred country; hence the same set could be purchased having a DB loco and coaches, or a SNCB loco and coaches or ÖBB etc. Also contained a oval of track, a controller and the carriage washer.
Track was also made in Ireland but so far I have only found examples of the medium radius curves.
At the Train Collectors Society meeting in November 2009 Andy and Elaine Hyelman exhibited an Irish Jouef layout.
A Swedish Railways (SJ) version of the set is understood to be unique and was offered recently (2006) for auction on a Swedish auction site and sold for 5700 Krŏne (£422).
The description which accompanied the auction is translated as follows
'A unique Swedish starter set from Jouef. This is the only example that was made and the set was shown at the Nuremberg exhibition in 1980. It was to be made in Jouef´s factory in France (Ireland?), The set contains one loco and four coaches which have all simply been marked as Swedish. The coaches for example are only lettered on one side. The set contains one first class and three second class coaches. Also contains a track oval, power pack and carriage washer. The set was illustrated in an issue of Allt om Hobby (a Swedish hobby magazine) in the same year. It is still unopened and sealed. The box is unfortunately slightly damaged on one side.

After the exhibition the set came to Sweden and was shown to the toy trade. The orders were few and it never entered production. This is now a unique opportunity to buy a very odd part of the Swedish model train history. '
My thanks to Stefan Svensson for the above information.
The End
This sorry enterprise came to an end in 1981 with the collapse of 'Le Jouet Français'.
It could have been good, with rumours of a Gresley V2 2-6-2 steam locomotive being tooled in 00 (4mm scale) for the UK market, but the models actually issued were not realistic enough even for children! The remnants from the factory (and there were tons of material) were purchased by Matt Ascough Jnr. - whose father was of King Charles Sports Centre and M & R fame - for his shop in D'Olier Street, Dublin - Hobbies, later Hobbyphoto, which advertised items in Continental Modeller for Nov./Dec. 1983.
A couple of years later, Framos went bankrupt and, on Matt Ascough's retirement, the items came to the U.K. into the possession of Tony Reece of Worcester, (trading as Southern Model Railways) who sold the class 40 models as kits.
Unfortunate news reached me in November 2010 that Tony had passed away. The remains of his collection were auctioned by Griffiths & Charles of Worcester. In early 2011 HDI spares were being sold on Ebay by 'Anoraks anonymous' of Doncaster.
The locomotive models are not common but do turn up at swapmeets in the UK from time to time. They are much sought after in France and in good boxed condition can command a high price.
Any more information regarding Jouef in Ireland would be most welcome.