These were supplied by the West German firm of Pola but only appeared in a couple of catalogues between 1965 - 1967 and in the second track plans book (1965). After 1967 they were superseded by Jouef's own range, although Pola went on to make a vast range of excellent kits.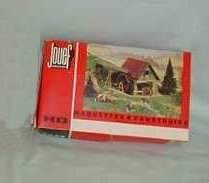 Here is a rare picture of a Pola kit in a Jouef box. They were sold in picture boxes like this but also in plain boxes as the railway items were.
Click on the picture for a bigger image
| | |
| --- | --- |
| | Inside the track plans book from 1962 |
| | The 1965 catalogue showing the new engine shed and some of the Pola buildings including the lamp post |
| | Most of the buildings were from the Playcraft range but the stations were specifically continental. New items were introduced too |
| | 1966 catalogue - all made by Pola and introducing 4 new kits |
| | 1967 catalogue showing the new Jouef buildings on one page.... |
| | and on the opposite page, a reduced Pola range. By the 1968 catalogue the Pola kits had gone |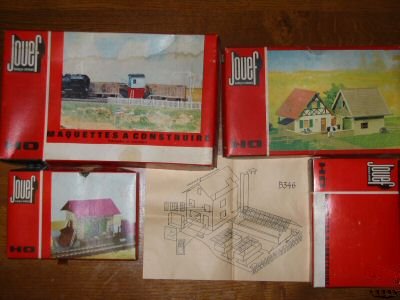 Here is another rare picture of Pola kits in Jouef boxes.- the coaling stage, the goods shed and the house & barn plus the diagram from the florists and its plain box lid alongside.
There were some good photos here but the site has now closed.
Below is a table of the Pola-manufactured models sold by Jouef up to 1968
| | | | |
| --- | --- | --- | --- |
| Jouef Cat No: | Playcraft Cat No: | Picture | Description |
| 770 | N/A | | Moutiers station scan |
| 771 | N/A | | Bellrive station scan |
| 772 | N/A | | Hauteville station |
| 773 | B327 | | Signal box scan |
| 774 | B341 | | Goods shed |
| 775 | B307 | | Partly tiled house |
| 776 | B309 | | House under construction |
| 777 | N/A | | Chalet bungalow scan |
| 778 | N/A | | Chalet bungalow scan |
| 779 E | B321 | | Operating water mill |
| 780 | B346 | | Florist with greenhouses |
| 781 | B343 | | Cafe with terrace |
| 782 | B338 | | Church |
| 783 | B348 | | Farm and barn |
| 784 | B334 | | Coal dock with crane etc |
| 786 | B393 | | Thatched cottage |
| 787 | B394 | | Timber framed house |
| 788 | B395 | | Contemporary bungalow |
| 789 E | B305 | | Hopper loader (operating hopper discharge doors) |
| 793 | | | lamp post |
| 793 E | N/A | | Yard lamp - retained in Jouef range |