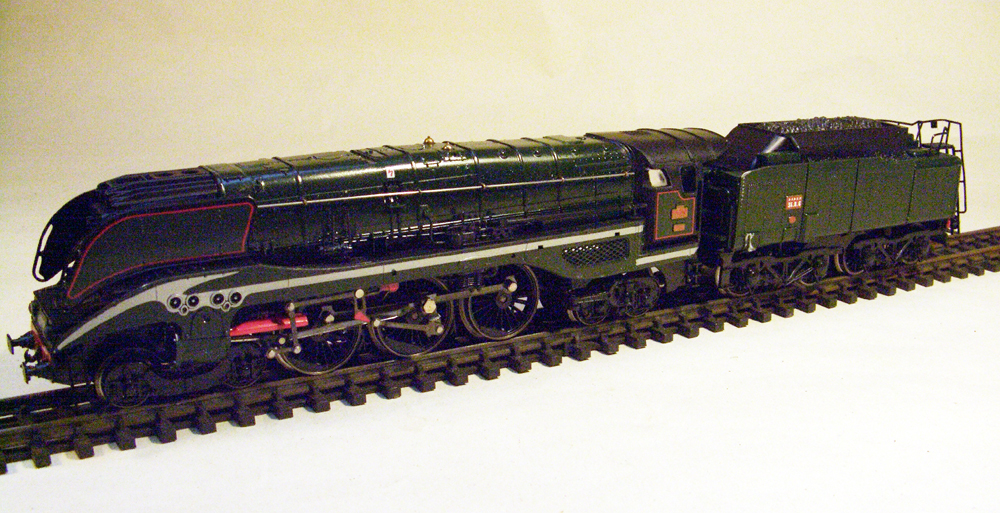 8249 - the SNCF 4-6-4 class U1 locomotive with type 36 B6 tender
Prototype information:
The Class 232.U1 was designed by the brilliant engineer Marc de Casso and constructed by Corp-et-Louvet for the SNCF. It was a one-of-a-kind steam passenger locomotive and featured a compound engine with four cylinders instead of the conventional two. The Class 232.U1 differed from other locomotives with compound engines in that the locomotive started out from a complete stop with all four cylinders working under the same steam pressure. Once the train was under way, the steam pressure switched over to a compound engine. In this arrangement, steam is used twice, first passing through the two high-pressure cylinders, then through the two low-pressure cylinders. Cruising at speeds over 75 mile/h, the Class 232.U1 ran north from Paris to Aulnoye and Lille on trains bound to and from Brussels, Belgium. Constructed in 1949, the Class 232.U1 was the last and most technologically advanced express passenger locomotive built in France.

The locomotive is preserved in the National railway Museum at Mulhouse where it is brought to life each day. The main disadvantage of all static Railway Museum have is that, of all the mechanical creations, the steam locomotive is the one that needs to be seen in operation to be able to appreciate its power and its qualities. The creators of the Museum found an ingenious solution to this problem: The 232 U1 locomotive is supported such that the wheels can turn simultaneously by means of electric motors that gradually increase in speed combined with the sounds of the locomotive dragging a heavy train.

Marvellous!

Type
232U1

The real thing

SNCF

Number built:
1
Operating area :
Northern Region
Maximum speed:
140 km/h (90 mile/h)
Power
3300HP

Weight

129 tons
Date entered service:
1949
Date withdrawn
Builder
Corp et Louvet